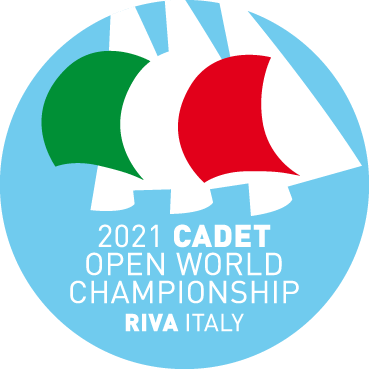 Monday June 25, 2021 – UPDATE
After extensive consultations with all parties involved EXCOM today decided to go ahead with the 2021 Cadet Open World Championship in Riva, Italy. Fraglia Vela Riva, the host club, has one important condition namely that we need at least 60 boats in the fleet. Consequently we urge you all to send in your entry as soon as possible, but not later than 30 June. If we do not reach the number of at least 60 teams (verified entry through our website plus verified payment of entry fee) at that time the event will be canceled.
Please read all information on this page and take good notice of the Notice of Race and the "pandemic statement". Due to government regulations in Italy Fraglia Vela Riva unfortunately will not be able to host social events including the pasta party or buffet after racing.

PANDEMIC – Competitors should note that this event can be cancelled or postponed at any time and with very short notice. Neither the International Cadet Class Association, its officers and committee nor the host Club Fraglia Vela Riva will be responsible for any financial loss incurred as a result of the cancellation or postponement of this event. The International Cadet Class Association, its officers and committee or the host Club Fraglia Vela Riva will not be responsible for any adverse health outcomes associated with travel to or from this event or participation in this event. Competitors are strongly urged to seek their own medical advice and to monitor their national government's health advice, that of the host country Italy and of any country through which competitors will be required to travel to attend the event.
The official Covid-19 updates from the Italian government can be found here.
Welcome to the dedicated page of the 2021 Cadet Open World Championship in Riva, Italy. In the coming weeks all important information about this event can be found here. A bit of history: up until 2012 all championships were organized by National Cadet Classes (NCCs), but in 2012 the International Cadet Class Association hosted its first ever self-organized European Championship (in Carnac, France), to be followed by a self-organized World Championship in 2015 in… Riva del Garda. Since then the ICC hoped that one day we would return to Fraglia Vela Riva on beautiful Lake Garda with its grand views, incredible sailing conditions and inimitable òra wind. Slated as a European Championship in 2020 preceding the Worlds in Australia due to Covid-19 it was decided to postpone to 2021 as an Open World Championship.
Venue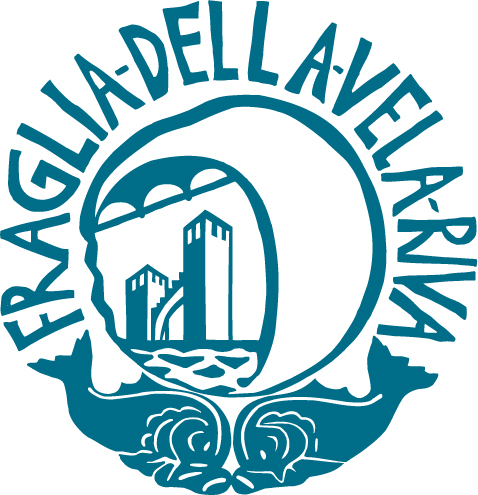 Fraglia della Vela Riva
Via Giancarlo Maroni 2
38066 Riva del Garda
Italy
The venue offers a host of amenities including: large boat park, car park, covered measurement area, two slipways, changing rooms, clubhouse with restaurant and bar, terraces with a breathtaking view and, last but not least, Riva del Garda's old and picturesque city centre is within walking distance of the club with numerous shops, restaurants, bars, tour boats and several museums.
Federazione Italiana Vela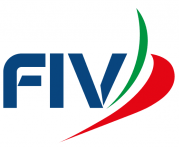 Our event, the 2021 Cadet Open World Championship, is placed on the official calendar of the Federazione Italiana Vela as published by the CONI, the Italian National Olympic Committee. Therefore it is deemed "of national importance", which may help you in travelling to and within Italy. A copy of this official letter can be downloaded here.
The Federazione Italiana Vela, the Italian Yachting Union, has kindly granted us permission "that athletes can participate [in the Cadet Championship] according to the age rules of their respective Countries or Federations".
The history to this permit: according to official Italian regulations (Italian) competitors under the age of 12 are not allowed to participate in a boat with a set of sails above a certain sail area. Kids of 6 years old may compete in an Optimist, but not in a Cadet. Hence the need for a special permit!
A copy of this permit will be posted on the official Notice Board.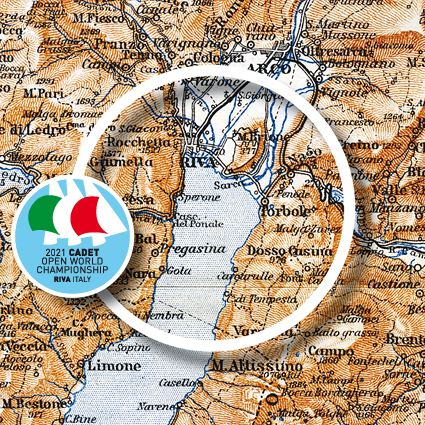 Location:
Where are we? Riva del Garda—Riva for short—is located on the northern shore of Lake Garda, the largest lake in Italy. And because it's so big the lake is located in three different provinces: Lombardia, Trentino-South Tirol and Veneto. Riva is up north in Trentino-South Tirol.
Dates:
Friday 30 July up to and including Friday 6 August 2020.
Provisional Schedule:
| | | |
| --- | --- | --- |
| Friday 30 July 2021    | 08:00 – 19:00 hrs | Registration & Measurement |
| Saturday 31 July | 08:00 – 12:00 hrs | Registration & Measurement |
|   | 12:00 hrs | Competitor Briefing |
|   | 14:00 hrs | Practise Race |
|   | 17:00 hrs | [Opening Ceremony] |
| Sunday 1 August | 13:00 hrs | Racing – Day 1 |
| Monday 2 August | TBC | Racing – Day 2 |
| Tuesday 3 August | TBC | Racing – Day 3 |
| Wednesday 4 August |   | Lay Day |
| Thursday 5 August | TBC | Racing – Day 4 |
| Friday 6 August | TBC | Racing – Day 5  |
|   | ASAP after Races     | Prize presentations [& Closing Ceremony] |
Please note: all racing and timetable information is provisional hence subject to change.
Please note: our World Championships generally offer a training period prior to racing. In consultation with Fraglia Vela Riva the club does offer the possibility to bring your boat from 25 July to start training, but NOT earlier because another championship is hosted at the club previous to our event.
Notice of Race:
The Notice of Race is now available for download.
Please note: a Parent/Guardian Medical Response Information and Consent Form is an integral part of the Notice of Race and has to be presented, filled out and signed, at registration in Riva.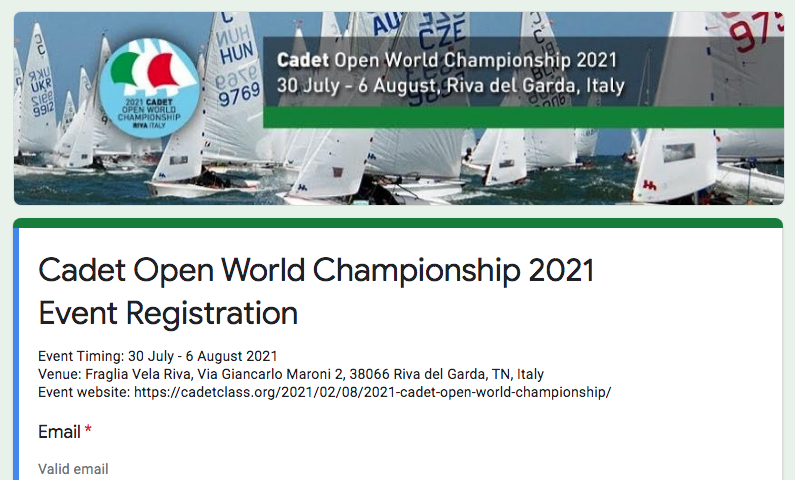 To make life a lot easier for both competitors and organizers we have made online Event Registration possible. After filling in all the requested answers you can submit your registration, after which you will receive an automated email at the email address supplied, with all the answers given as proof of entry.

Please note: most questions/answers are mandatory; without these you cannot register.

We suggest making a hardcopy (print) and bringing it to the event, just in case. This also goes for a proof of payment: make a hardcopy and bring it to the event.

Please be sure:
• to read and understand the Notice of Race (NOR) before you register;
• to pay for your entry fee in time (see details in the next section);
• to bring the original signed Parent/Guardian Medical Response Information and Consent Form to the event;
Online Entry for the event is now open. Please go to Event Registration. 
Payment
Payment as specified in Section 4 of the Notice of Race (please mention country code, sailnumber and helm's surname, e.g. "BEL 10055 Schoonooghe) must be made into either one of the following accounts:
International Cadet Class Association
Barclays Bank PLC
10 South Street
Dorchester
DT1 1BT
United Kingdom
BIC/Swift: BARCGB22
IBAN Euro Account:
GB31 BARC 2026 6286 9543 99
or
IBAN Pound Sterling Account:
GB38 BARC 2026 6253 4287 45
Sort Code: 20 26 62
Account Number: 53428745
---
Sailing Instructions:
Will follow in due course.
---
Sailing Conditions:
Average summer temperature: min. 18°-30°C. Average water temperature: 23°C.
---
Prevailing Winds:
The 'òra' from the south which picks up around midday dropping at sunset. During summer it can bring gusts of around 20-24 knots to the race area causing the 'venturi' effect by funneling into the narrowest and most northerly part of Lake Garda (where we will be!). Windspeed 14-24 knots.
---
Charter Boats:
Cadet builder Blueblue is offering new high quality Cadets for charter at the event. Please contact them directly for more info:

Blueblue – contact Lukas Meyer at office@blueblue.pl
These boats can generally be purchased after the event at a discount.
---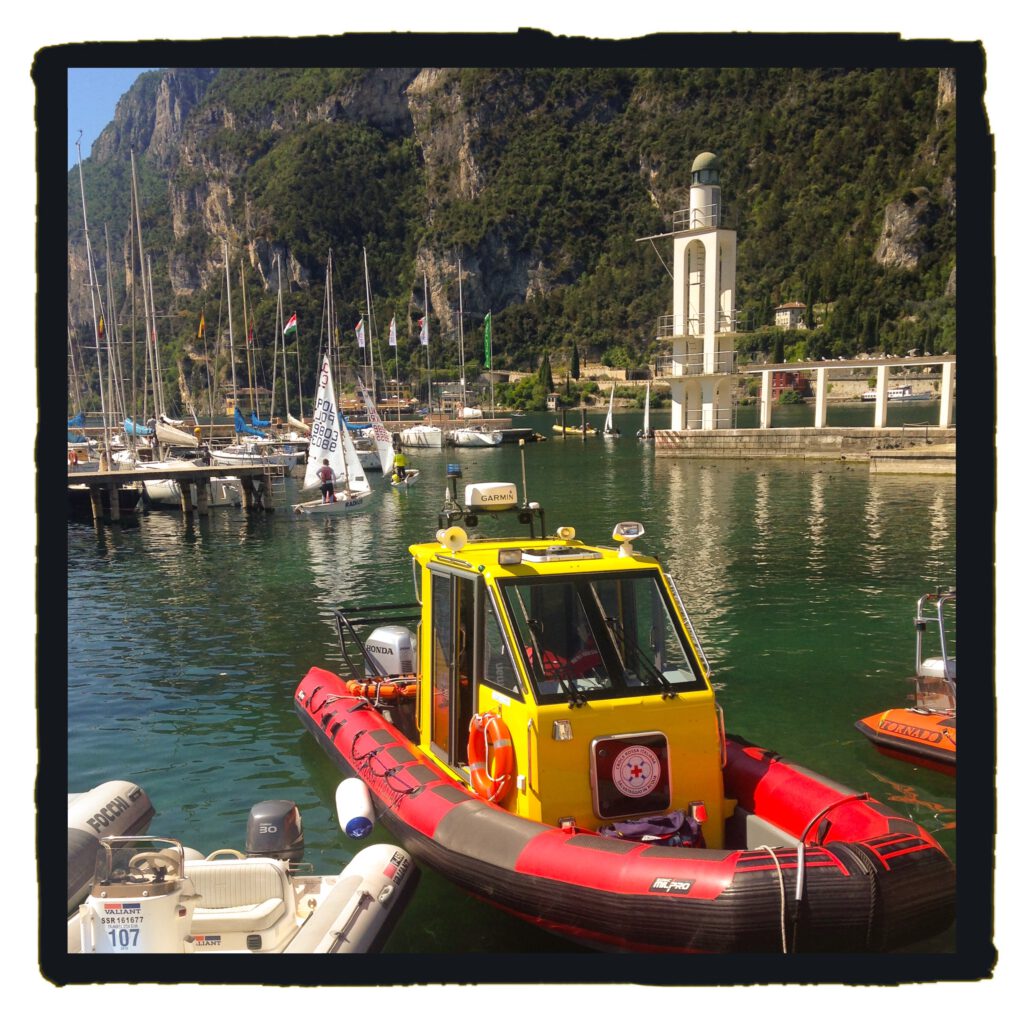 Support Boats:
Mechanically propelled boats are generally prohibited to sail on the northern part of Lake Garda. However, during the event a special permit to use such boats may be given (but only during racing hours; no sightseeing and no leisurely spins). All information regarding these permits and their rules and regulations can be found in the Notice of Race in due course. There is no limit to the number of permits given at the event, but the rules must be strictly observed at all times or the permit will be revoked or, worse, the police will give you a fine or seize your boat!
Please contact Fraglia Vela Riva directly for more information: info@fragliavelariva.it