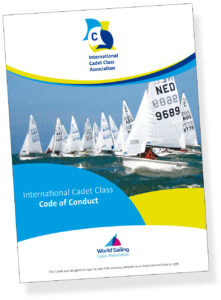 International Cadet Class
Code of Conduct Policy
It is the policy of the International Cadet Class Association (ICCA) that all participants, coaches, instructors, officials, parents and volunteers show respect and understanding for each other, treat everyone equally within the context of the sport and conduct themselves in a way that reflects the principles of the Class. The aim is for all participants to enjoy their sport and to improve performance.
Abusive language, swearing, intimidation, aggressive behaviour or lack of respect for others and their property will not be tolerated and may lead to disciplinary action.
The full Code of Conduct Policy can be downloaded here as a pdf.
Please note: additional guidance from the World Sailing Guidelines on Misconduct 2021 relevant to junior and youth class events, is included.
Read More